Orders typically ship within 1 business week, since our suspenders are made in house. Look for your order's tracking number via email about a week after your order has been processed.
Orders placed after 12:00PM PST/PDT will be processed the following business day.
Please allow an additional one(1) to five(5) business days for your order to be delivered. Based on your physical location transit time may vary; delivery service to some remote areas may require additional delivery days. Here's a map of the approximate transit times provided by UPS for their Ground shipping service: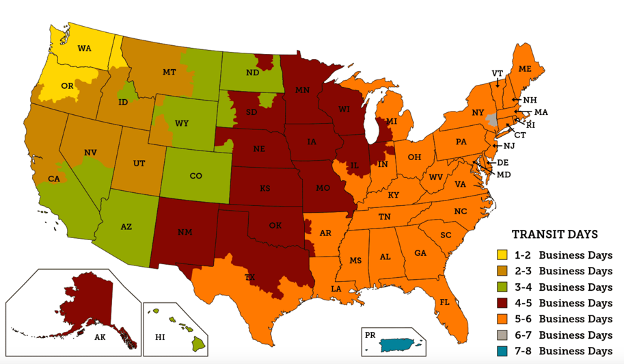 In recognition of the following U.S. national holidays, Kinco® will be unable to fulfill orders on the following days each year:
New Year's Day
Memorial Day
Independence Day
Labor Day
Thanksgiving Day & day after
Christmas Day
Order processing and fulfillment will resume the following business day. Please allow additional time for order processing during peak holidays and the holiday season.